If you're looking for a company to get rid of waste on your behalf, it's important to remember that you still have a responsibility to make sure that waste is removed safely and appropriately. After all, would you be pleased to find out that the waste from your house had been fly-tipped? Regardless of whether you're morally okay with this or not, the fact is, fly-tipping is against the law and if waste from your property is found somewhere it shouldn't be, you could find yourself in serious hot water. With this in mind, and to save yourself any unnecessary trouble, it's important that the waste removal business you've booked is operating legally and therefore, has a waste carrier licence.
What is a waste carrier licence?
Put simply, if a business carries waste of any kind, then it's vital they register as a waste carrier. In fact, it's not just vital, it's legal, following a change in law back in January 2014. This applies to any business that transports, buys, sells, arranges the sale of, or disposes of waste – even in small quantities.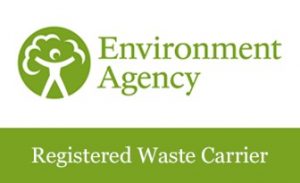 The waste carrier licence is granted by the Environment Agency and is free for companies wanting to transport waste only produced by themselves. If a business transports waste for others, then registration costs £154.
Once registered, the business will then be categorised as either lower or upper tier, with organisations like charities falling into the lower tier bracket. If you're looking to hire a waste removal company, then they would be upper tier. Those in upper tier will need to renew their licence every three years, costing £105 each time – while lower tier licences won't need to renew.
It's worth noting that it's not just professional waste removal companies who need a licence, registration applies to anyone who carries waste as part of their day-to-day job, such as gardeners and carpenters, for example.
Why is it important to have a waste carrier licence?
Simply put, if you book a company that doesn't have a waste carrier licence, then you could face a fine of up to £5,000.
The fact is, you are responsible for where your waste ends up. If your waste is found dumped somewhere illegally, or on an unauthorised site, it could be traced back to you, or your business. Ultimately, fly-tipping or illegally discarding of waste can have a huge impact on the environment and human health, so it's vital rubbish is disposed of correctly.
If a business has committed an offence, like fly-tipping, then their licence will be removed and they will no longer be legally registered.
How to check if a company has a waste carrier licence?
Any trustworthy company should be more than happy to provide you with a copy of their waste carrier licence. Alternatively, all registered businesses are listed on the Environment Agency website.
Remember, don't be afraid to ask for documentation, as all legitimate waste carriers will have a certificate to prove it.
If you need some waste that needs collecting and are after a registered and reliable company then get in touch with Milkris Interiors. Whether it's an office or site clearance you're after, or are looking for a wait and load service, our experienced team are committed to professionally removing your waste. Although we're based in London, we have the ability to provide our services nationwide.