WAIT AND LOAD SKIPS IN LONDON
At Milkris Interiors, we understand that it is not always possible or practical to have a skip situated on-site, for a long period of time. That is why our 24/7 Wait and Load service is here to provide you with the perfect solution. Ideal for any job, whether it is big or small, but one that requires a quick clearance, or where space and access to a site is limited, our Wait and Load service guarantees a time-effective and convenient option.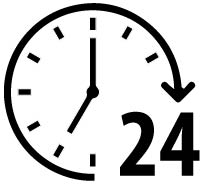 In busy cities like London, where rules, regulations, charges and time constraints so often apply, our Wait and Load service will more often than not, provide the most efficient way to remove your waste. Plus, our brand-new modern fleet can operate throughout all London zones and restrictions, which means we can successfully remove your waste, even in the most challenging of locations.
At Milkris Interiors, we are experts in removing rubbish and waste. We pledge to deliver unbeatable customer service of only the highest level while working hard to protect the environment, thanks to our 100% landfill diversion policy. Our goal is to offer a solution to suit all waste removal needs, always at a competitive price, to ensure we continue to meet all budgets and requirements.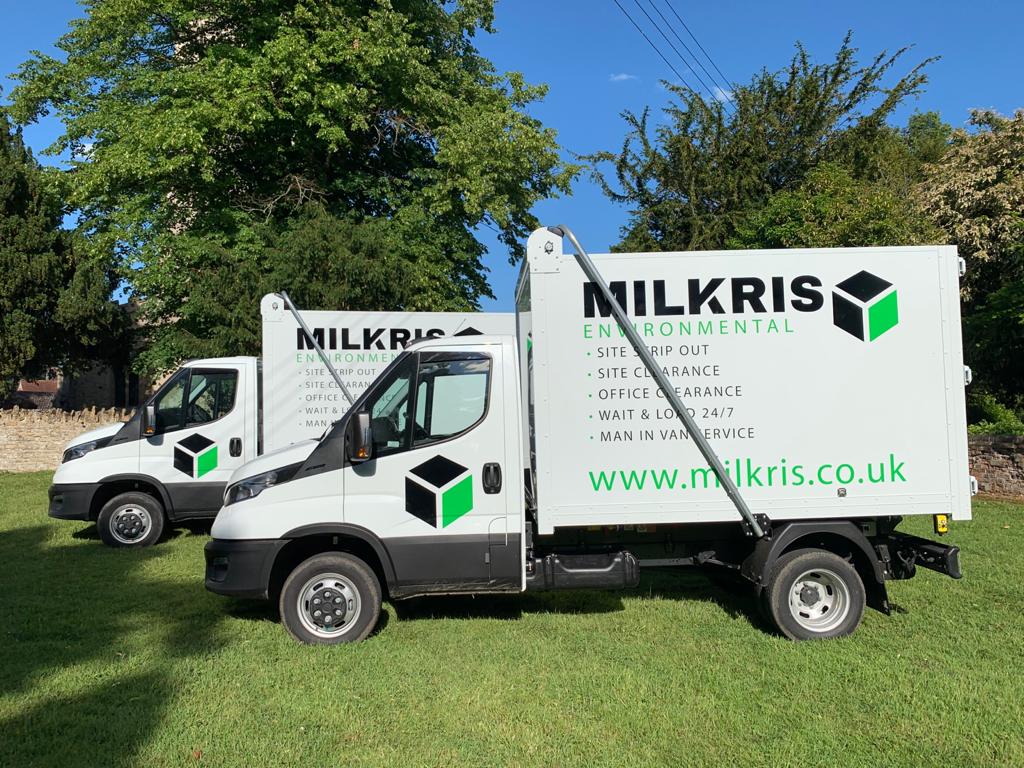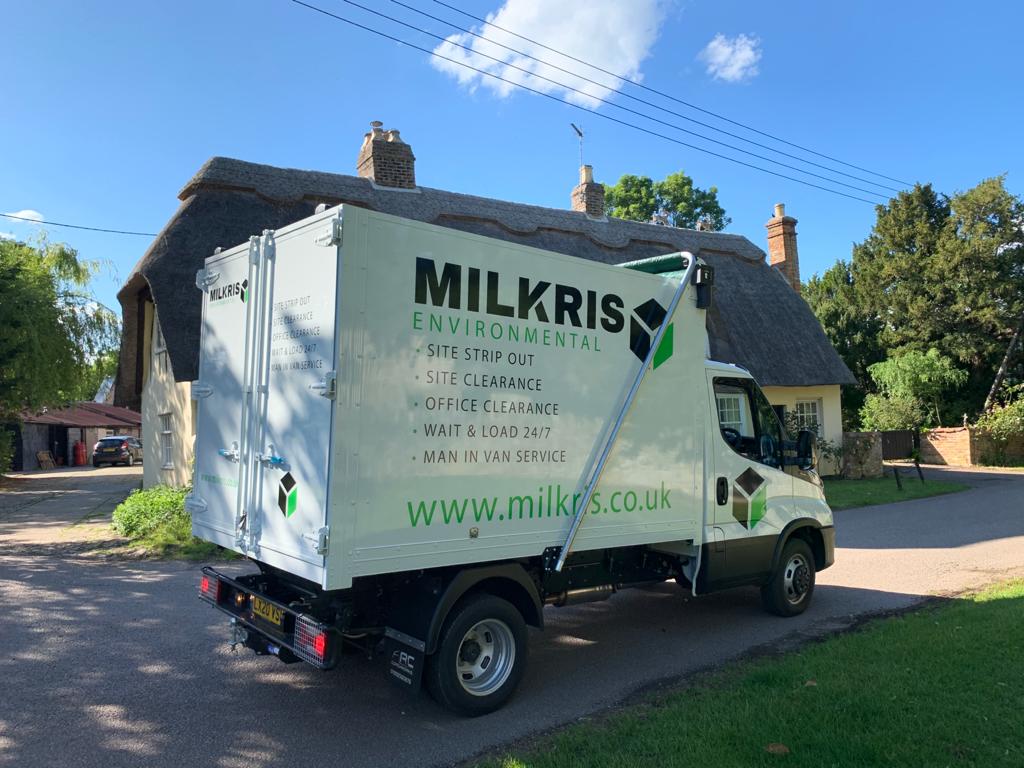 What Is Wait And Load?
At Milkris Interiors, our Wait and Load skip package is, as the name suggests, a service in which our friendly team of professionals arrive at your named location, wait while our vehicle is loaded with your waste, and once done, we leave the premises straight away, taking all of your rubbish with us and off your hands. It's a fantastic alternative to traditional wait and load skips that require you to keep a skip on site. Think of us as your flexible, express waste removal service.
We provide a free 30-minute waiting time and if required, we also offer an all-inclusive package, which includes support from our friendly, professional driver, to help you load the vehicle.  
With our waste clearance services available 24/7, 365 days of the year, the Milkris Interiors Wait and Load service offers you an undeniably practical alternative to traditional skip hire.
Our Wait and Load skip service proves particularly handy for those working to a tight schedule or who do not have the space on-site for a traditional skip. With this in mind, or even in cases where there might be room for a skip, getting necessary permission from the council can often become time-consuming, especially if you are based in the city centre and need to liaise for a permit. Of course, city locations also have the potential to bring with them problematic road conditions, confusing one-way systems and access restrictions. Choosing Milkris Interiors to help you with your waste disposal and avoid any unnecessary risk of fines or fuss. Save yourself the time and hassle by contacting Milkris Interiors.
Additionally, many find that having the peace of mind that comes with our Wait and Load service, knowing that your waste will be taken away immediately, is priceless. This is because traditional wait and load skips, which are onsite for a longer period of time, are often seen as an invitation for fly-tippers, or passers-by to dispose of rubbish, or hazardous materials, some of which sometimes cost more to remove.
Of course, traditional wait and load skips that are on-site for longer are also deemed as an eyesore by some home and business owners too. This can be avoided if you choose our Wait and Load service.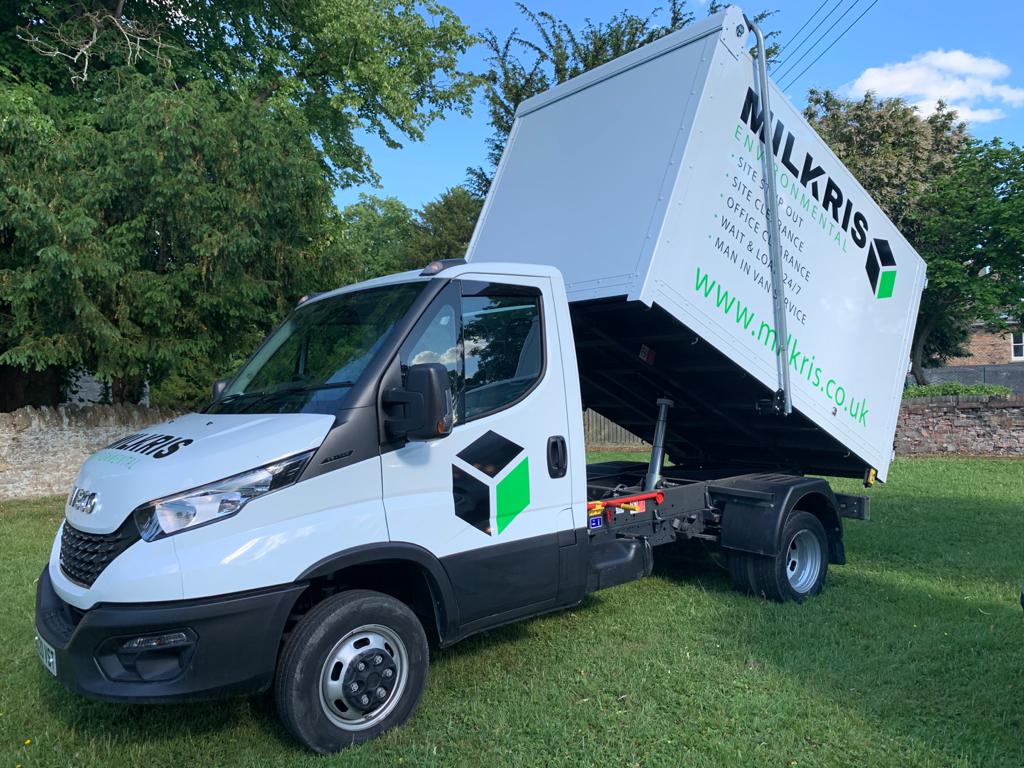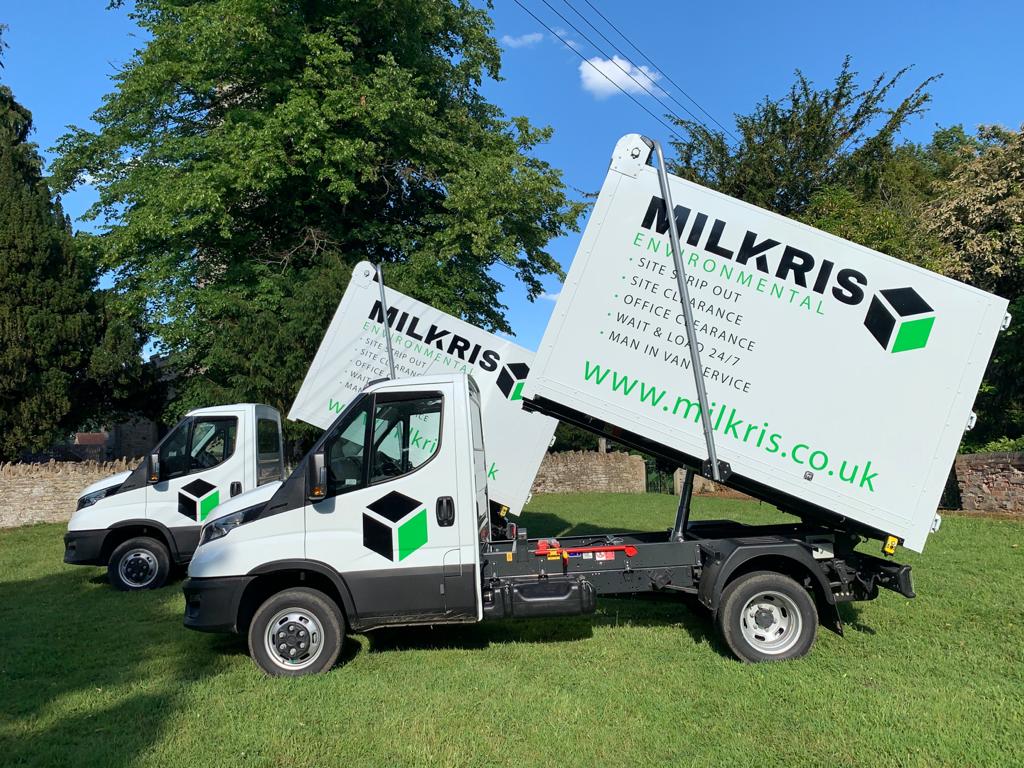 100% Landfill Diversion
At Milkris Interiors, we work hard to ensure every job that we do is as eco-friendly as possible. This means that we are proud to guarantee a 100% landfill diversion.
Landfills have extremely negative impacts on the environment and the economy, as they produce harmful gases and dangerous toxic substances that should be avoided at all times if possible.
That is why it is really important to us that we responsibly avoid any landfills when clearing any waste and our Wait and Load service is no exception.
·24/7, 365 days a year
· Friendly drivers that help load
· Competitive Quotes
· Brand New Fleet of Enclosed tipper vehicles
· Reliable Service
· Full audit trail of your waste
· Same day service
· 100% landfill diversion
Get In Touch
If you are looking for a professional team to get rid of bulky waste, quickly and efficiently, then don't hesitate to contact Milkris Interiors today. Our Wait and Load service is here to provide you with your perfect fuss-free, quick, rubbish removal solution. We are located in central London, working hard to serve customers in the city and surrounding areas.
Our services are available 24/7, 365 days of the year, so get in touch and we will discuss your requirements in more detail, working with you to provide the perfect solution. We have a variety of waste disposal options available, so speak to our team of experts and let us support you in helping you choose with option that would match your needs best.
Simply fill out the contact form on our website, or you can reach us by phoning 0207 566 2188 or emailing info@milkris.co.uk.
If you would like to get a quotation or
make a booking please contact us below
Location
Kemp House,
152-160 City Road,
London EC1V 2NX
Kemp House,
152-160 City Road,
London EC1V 2NX